You have a great startup idea, and now you want to realize it. Founding a startup can be a huge challenge and most founders are looking for support to navigate through the startup space. A startup program such as a startup accelerator or startup incubator is the clear choice for most startups. How can you tell if you're ready for a startup program?
1. You are ready for feedback
Essential to building up a startup and a product people love is to be open to feedback. Whether that feedback is from your customers or coaches or industry experts. That doesn't mean you have to listen to every piece of advice or that you must build a solution for every nice-to-have request. On the contrary, it just means that you should be ready to reflect your approaches and be open to pivot, if necessary. Startup programs can help you best if you are prepared to change directions from time to time and take feedback seriously.
2. You are committed and ready to participate in a startup program
Startup programs are designed to coach you in different ways. If you want to make the best out of such programs, it's important to actually participate. Sure, you have hundreds of duties and important things to take care of but participating in the respective program is as important. You get high-quality coaching, feedback, and resources from a startup program. Suppose you are in a founding phase, where you can only concentrate on building your product and have no time to learn about startup basics from management to sales. In that case, you are probably not in the right phase to join a startup program. The programs are often carefully designed, and you will benefit from getting insights into different areas. Take the time to join different sessions and meet with the coaches and the other teams to exchange perspectives and grow as an entrepreneur.
3. You are open to pitch your startup idea
There is at least one pitch event in every startup program where you need to pitch your idea. No one has the perfect pitch at the first time. It needs practice. So, don't worry, you will improve your pitch step by step. Often, you will also have some kind of pitch training in a startup program to help you pitch better. The only thing you need is the willingness to pitch. It isn't easy (for some people more than others) to stand in front of a crowd and talk about your visions and goals. But as a founder, this is one of your jobs, if you like it or not. Therefore, always be ready to pitch your startup idea. Take the chances you get to pitch because those will get you attention and lead to opportunities.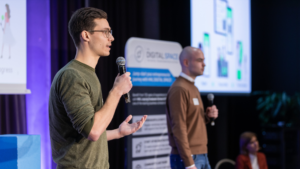 4. You want to join and interact in a community and network
Having a network is tremendously helpful when building a startup. It can give you access to industry partners, investments, or the right coworkers at the right time. Every startup region has its own ecosystem, and you can easily get access to it through a startup program. But that also means interacting with others. Make use of the network around you and ask for help if you need it. Also, be helpful to others and share your knowledge. You will see this makes the ecosystem stronger altogether.
5. You are in an early stage with your startup
Most startup programs focus on early-stage phases because this is when founders need support in knowledge and mentoring and can still pivot. In the growth phase, startups usually need money and, therefore, put more effort into finding a suitable investor than spending time validating the business model. Thus, only very few startups programs concentrate on later stages. On the other hand, also very few programs focus on the idea stage. It's probably because it's time-consuming since the startups need a lot of individual feedback. If you are in your idea stage and looking for a structured program with individual feedback, make sure to check out our incubation program.
6. You are looking to scale up your business idea
Of course, there are different programs, and you have to find out which suits your business most. But in general, startup programs are designed to help scalable business ideas. If you want to open a café around the corner, you will probably also need some coaching and advice, but most startup programs focus on businesses that have the ability to grow fast.
7. You have a vision and a great idea
Last but not least, it also comes down to a great idea, an innovative way to solve a problem. Think about it: startup programs are often financially backed by universities/state funding. Naturally, they are looking for scientific, technological, or social innovations.
Can you tik all those seven boxes? Perfect, you are ready to join a startup program and grow your business! Feel free to check out the HHL DIGITAL SPACE incubation program and find out how we can support you with your idea!